Let's raise our voices in HOPE!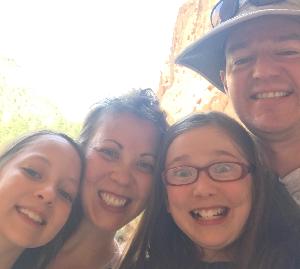 This is the 20th year for the Race for Research, benefitting Southeastern Brain Tumor Foundation!
Can I count on your support? There are 3 ways you can help today:
#1 - Run the race with me! You can click the button at the top of the page (look right) to join my team.
#2 - Donate to help me reach my personal fundraising goal.
#3 - Help me spread the word about this organization and the Race for Research.
The race will be held on Saturday, September 21st at at Atlantic Station - near downtown Atlanta. GA. It's a 5K run, 1K fun-run/walk and a fundraising event that raises money to support brain tumor research. There's even an adorable Tot Trot at 8:45 for kids 5 an under!
Don't worry if you're not a runner - many of the registrants are not runners. Instead, you'll find that many of the registrants are brain tumor patients who are just happy to be alive and at the event!
PLEASE KNOW that your participation will have a positive impact on the life of a brain tumor patient because it will help to fund much needed brain tumor research. Sadly, many of us don't realize how scarry a brain tumor diagnosis is until someone we know is told "you have a brain tumor" or "you have brain cancer".
Thanks so much for taking the time to read my request for support. I appreciate it!
*The Southeastern Brain Tumor Foundation is recognized as as a 501 (c) (3) not-for-profit organization and donations are tax deductible.
**As always, be sure to check with your Human Resources Department to determine if your company will match your donation.**
View More
Achievements

A Voice of Hope!
Raised $2,500 in support of brain tumor research
Fundraising Honor Roll
Erin Connolly - Cherney
$25
Gray & Sam Jackson-Noell
$61
Lee, Leanne and family
$61
Mawson-Puckhaber Family
$30
The Crows (Sorry we can't run with you)
$50